| | |
| --- | --- |
| JAy Soto | Guitarist, Pianist, Vocalist, Composer, Producer, Instructor |
Jay Soto (AKA DeSoto) and his music have found a way into the hearts of many with his smooth, but fiery, guitar licks and passion of the fretboard. Best known as a guitarist, he's also a composer, songwriter, producer, pianist, music instructor and church music director. He's performed and recorded with some of the biggest names in the industry such as Jeff Lorber, Jeffrey Osborne, Paul Brown, Craig Chaquico, Everette Harp, Eric Darius, Gregg Karukas, Candy Dulfer, Euge Groove, Acoustic Alchemy, Boney James, Michael Lington and the list goes on...
As a consummate player and an accomplished composer/arranger his songs have been heard on mega hit shows "Sex and the City" (HBO) and "All About US" (NBC). He's also a favorite on the Weather Channel.
He was also a grand finalist in Guitar Center's "Guitarmageddon" Competition, the most respected guitar competition in the nation. He proved his talent immediately by winning the local, district and regional rounds and then made his way to the finals held at Eric Clapton's Crossroads Guitar Festival in Dallas, Texas where he played in front of over 15,000 people. In the end, Jay finished as one of the top unsigned guitarists in the nation.
Soto signed with Smooth Jazz label, NuGroove Records in 2007, and his first single, Slammin', became a smash hit and reached #2 on the coveted, national R&R charts. His second hit and title cut, Stay Awhile, went to #19 on R&R. By year's end, he finished as the 9th most played Smooth Jazz artist on the radio in the nation in 2008. In April of 2009, Soto released his most anticipated CD release to date, Mesmerized.
Today, Soto is embarking on his most ambitious effort to date. Under the fresh, new moniker, "DeSoto", he's exploring uncharted territory musically with a new sound so diverse, one may find it impossible to label. Drawing from virtually every musical style within, he has blurred the lines between Rock, Classical, Jazz, World Music and more, all the while maintaining a sense of unity and continuity in his writing. It really is a you-have-to-hear-it-to-believe-it kind of sound. The release is expected to drop later this year. He also has plans for a major live production of his new music including an orchestra and dancers.
---
Powered by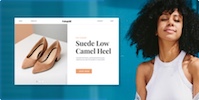 Create your own unique website with customizable templates.